Yellow color for vitrage 20ml
[Decola Glass & Porcelain Paints]
Action $1.32. Transparent water-based acrylic paint for stained-glass window, bottle 20ml (0.68 fl.oz). Decola, Russia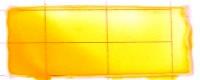 Acrylic transparent non-toxic paint for Vitrage by Decola.
Clean a surface before painting from dust and fat and place it horizontally.
Draw contour for glass and ceramics without gaps.
Dry the surface during 3 hours.
Shake and mix paint before use.
Intensity of a color may be decreased with diluent by Decola.
Fill surface inside contours by brush or sponge.
Dray work during 3 days (72 hours).
If you dsire to make the work more durability,
place it in oven on 30 minutes with temperature up to 100°C (212°F)
or dry it by hairdryer with maximal temperature.
The work may be cleaned by soft wet rag without pressing.
WARNING:
Do not paint surface that may have contact with food or beverage.
Store paints in tightly closed jar.
Wash brush and painting tools with water in a short time after work.
Wash skin by water with soap from a paint.
Store paints with temperature from 5°C to 35°C.
Decola, Nevskaya Palitra, Russia
20ml / 35 g Nevskaya Palitra
Decola Glass & Porcelain Paints
Transparent Paints for Glass