Tempera colors set 12x18ml
[1641007]
[Tempera Master-Class]
Artists Extrafine polyvinyl-acetate tempera paints, 12x18ml tubes (12x0.608 oz)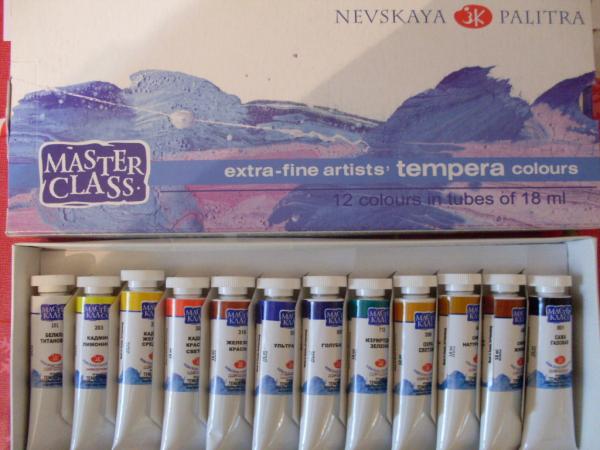 Extra-fine artists´ tempera colour "Master class"
12 colors x 18 ml tubes
Artists tempera polyvinyl-acetate paints of the Master class Series
are produced on the basis of high-quality organic and non- organic pigments
and polyvinyl-acetate dispersion.
They are traditional materials for painting.
Due to thoroughly chosen components the Master class tempera paints
suit perfectly for painting and is decorative - design works.
They are easily drawn on paper, cardboard grounded and non-grounded canvas, ceramics and wood.
After drying up they form an elastic opaque indelible film.
Lightfastness:
*** - High
** - Good
* - Average

The composition:
001*** Titanium White
203*** Cadmium Lemon
107*** Cadmium Yellow Medium
314** Cadmium Red Light
316*** Iron Red
511** Ultramarine
or 508*** Cobalt Blue
500** Phthalocyanine Blue
713*** Emerald Green
148*** Ochre Light
405*** Raw Sienna
406*** Burnt Sienna
209** Lamp Black
Nevskaya Palitra, Russia
18 ml*12 / 395 g Nevskaya Palitra
Tempera Master-Class
Tempera in Sets