English Red
[300***O, PR101, s1]
[Master-Class oil paints]
Artist Oil Paints St.Petersburg, Master-Class, Tube 46 ml (1.55 oz.)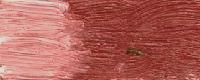 St.Petersburg MASTER CLASS Extra-Fine Artists Oil Colors
Master Class - artistic oil paints of supreme quality for demanding professionals and amateurs.
The manufacturer of Master-Class produces also worldwide known and very successful White Nights water-colors.
Master Class artistic oil paints are made from high quality pigments and binders
based on specially treated linseed oil, with the addition of natural resins - dammar and mastic -
that have positive effect on visual qualities of paints.
Most paints consist of oily ONE pigment, which creates colors of superb intensity
and purity with high light-fastness, and mixing qualities.
Many of the colours in these sets are ** or *** star on lightfast rating.
The palette consists primarily of traditional colors from natural earthly, cadmium, cobalt,
and iron oxide pigments, and is characterized by a perfect balance between primer and finishing paints.
Degree of Lightfastness under museum conditions (sign on the tubes):
*** - 100 years completely lightfast
** - 25-100 years lightfast
* - 10-25 years lightfast
Opacity (Signs in our catalogs):
T = Transparent
ST = Semi-Transparent
SO = Semi-Opaque
O = Opaque.
P - International Pigment's Code (see in the description of paint).
PWxx - White (number хх)
PYxx - Yellow
PRxx - Red
PVxx - Violet
PBxx - Blue
PGxx - Green
PBrxx - Brown
PBkxx - Black
PXtr - Pigment X Transparent
Tube 46 ml (1.55 oz.)
St.Petersburg Nevskaya Palitra, Russia
Violtan NOTES:
1. We design
[hm]
the colors that contain
Heavy Metals
.
Avid to use these paints with air-brush.
Avoid skin or mouth direct contact with these colors.
Wash hand with soap after paintnig.
2. We tested ricently oil colors Master-Class, produced in 1982 by this manufacturer.
Most of these paints have a good consistence up today (after 27 years in usual home condiotions).
We have added only a little of linseed oil and turpentine.
The quality of oil colors Master-Class correspond to woldwide known oil colors
as Rembrandt (Talens, Holland), Winsor & Newton (England), Van-Dyck (Ferrario, Italy)
and may be also to Old Holland oil colors.
46 ml / 104 g Nevskaya Palitra
Master-Class oil paints