Decola Stained Glass 9x40ml
[Decola Glass & Porcelain Paints]
Transparent Water-based paints for Stained-Glass, Set 40ml x 9 colors (1.35 fl.oz x 9)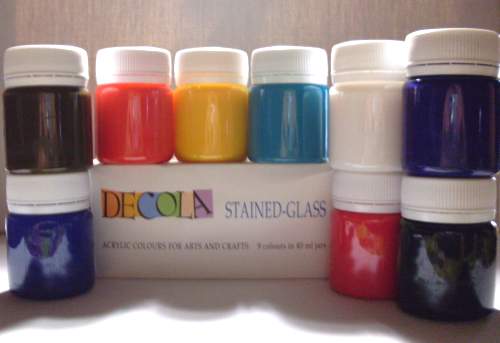 DECOLA Stained Glass
Transparent nontoxic water-based liquid paints for glass and artificial stained-glass windows.
The colors are made on the basis of water-acrylic dispersion.
Used for paintings on glass to create the effect of stained-glass.
Composition of the Set:
1. Yellow
2. Orange
3. Red
4. Green light
5. Blue deep
6. Violet
7. Brown
8. Black
9. Colourless
Degrease the surface and keep it horizontally.
Apply the out-liner for glass 'Decola' (or other company) witgout gaps to avoid spreading of the colors.
Dry contour during 3 hours (if used Decola out-liner).
Ready to use.
Shake well paint before using.
Apply one or several layers of paint with a soft brush or a sponge inside the contours.
Touch dry time for paint is about 3 hours.
Intermediate drying time 12 hours between the layers.
Dray the entire work 72 hours.
Painting can be heated in the oven at 60°C-70°C (140°F-160°F) during 30 minutes
or by hairdryer at the max.temperature.
But it is not necessary.
Wash up the painted surface in the warm water without mechanical effects.
Do not use these paints for surfaces that may have contact with foodstuff.
Never mix the paints with turpentine, other solvent or oil paints.
Keep the paint tightly closed at 5°С-35°С (40°F-95°F).
Thoroughly wash brushes, sponge and tools with water immediately after work.
If the paints get on your skin, wash the skin away with water.
9 jars x 40 ml in each (1.35 fl.oz x 9).
Nevskaya Palitra, Russia
9x40ml / 610 g Nevskaya Palitra
Decola Glass & Porcelain Paints
Transparent Paints for Glass