Yellow Liner for glass
[211]
[Decola Glass Liners]
Contour acrylic paste for glass and ceramics, Tube 18ml (0.608 fl.oz)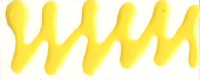 Liner for art crafts is made on the basis of water-acrylic dispersion.
Non-toxic, ready to use.
Used for creation of 3D-paintings on the glass, ceramics, faience, porcelain, china, plexiglass, metal.
Apply the liner on the degreased surface.
Dry it during 3 hours before applaying paint for Glass & Ceramics.
Do not use the liner for surfaces that may have contact with foodstuff.
Clean the end-cap of tube with pin and water.
Keep the liner tightly closed in tube at 5°С-35°С (40°F-95°F).
If the liner gets on your skin, wash the skin away with water.
DECOLA: St.Petersburg - Nevskaya Palitra, Russia
18 ml / 25 g Nevskaya Palitra
Decola Glass Liners